Re-Live All The Excitement Of The 2013 Mid-Atlantic Fanfest!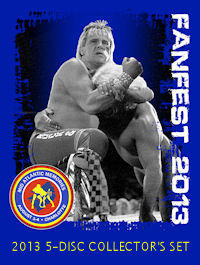 Preorder Now! Ships In December!

An incredible collection of video from this past August's fanfest weekend in Charlotte includes all of the memorable moments!

Professionally produced and packaged, this five-disc limited edition set is some of the best fanfest DVDs ever produced!


Each 5-DVD Collector's Set includes:


Disc #1 - "INSIDE THE STEEL CAGE! with Magnum T.A. and Tully Blanchard" Q&A
Two of the all-time greats sat down for an historic question-and-answer session, discussing their memorable mid-1980's feud highlighted by the brutal and bloody "I Quit" cage match at Starrcade '85! Hosted by Mike Mooneyham.

Disc #2 - "UNPLUGGED & UNCENSORED! with Jim Cornette" Q&A
You won't want to miss this late-night, no-holds-barred rant, where "The Louisville Lip" discussed, among many other things, his 10-month hiatus from the world of wrestling. Hosted by PWInsider.com's Mike Johnson.

Disc #3 - Hall of Heroes Awards Ceremony
Legendary Memphis promoter Jerry Jarrett inducts The Rock-n-Roll Express, Midnight Express and Jim Cornette into the Hall of Heroes Class of 2013. A very special evening, hosted by comedian Larry Weaver and WWE Hall-of-Famer Sunny, honoring nine of wrestling's all time greats!
Tully Blanchard inducts Magnum T.A.
Jerry Brisco inducts Danny Miller
James J. Dillon inducts Les Thatcher
Brad Anderson inducts Lars Anderson

Disc #4 - Saturday Night Wrestling Matches
Celebrating three decades in wrestling, Ricky Morton and Robert Gibson rocked one more time in Charlotte, this time against "Aces and Eights" DOC and Dlo, plus the final first-round matches in Wrestling Cares' year-long "Race For The Ring" tournament. Legendary TV announcer Les Thatcher calls the action from ringside.

Rock-n-Roll Express vs. "Aces and Eights" DOC & Dlo
Homicide vs. Damien Wayne
"Fantastic" Bobby Fulton vs. "Action" Mike Jackson
"Race For The Ring": Cassidy Riley vs. Corey Hollis
"Race For The Ring": Micah Taylor vs. "The Greek God" Papadon
and more!

Disc #5 - Sunday Afternoon Wrestling Matches
More than 600 pounds of muscle and braun collide as the stars of Impact Wrestling are featured in the main event. North Carolina native and one-half of the TNA World Tag Team champions Gunner battles the Aces and Eights "Director of Chaos" DOC, and a rematch of Ring of Honor's 2012 "Match of the Year" topped the weekend's second card.

Gunner vs. "Aces and Eights" DOC
Davey Richards vs. Michael Elgin
PWX Showcase: Roderick Strong & Eddie Edwards vs. Caleb Konley & Cedric Alexander
Homicide vs. Damien Wayne
"Action" Mike Jackson vs. Michael Blaze
and more!



Preorder today! Ships Mid-December!

Add the full-color Souvenir Program and/or "Mid-Atlantic Memories!" commemorative T-shirt, and save even more!

FREE SHIPPING within the Continental United States!

Pay securely using your credit card, debit card, or bank account.
Click here for other payment options.





Final, 10th Anniversary Fanfest In Charlotte Next Summer,
VIP "All Access" Passes, Hall of Heroes Tickets On Sale Now!


You may now purchase online -- using your credit card, debit card, or checking account -- your VIP "All Access" Passes and Hall of Heroes tickets for next summer's final fanfest weekend!

The 2014 Mid-Atlantic Wrestling Legends Fanfest Weekend, our 12th reunion and the tenth anniversary of our first fanfest back in 2004, will also be our last.

The final fanfest weekend will be Thursday through Sunday, July 31 through August 3, 2014 in Charlotte.

Our fanfests have been so much fun and we've met so many wonderful people from all over the world. We can't thank you enough for your years of support. The premiere of our "Mid-Atlantic Memories" film next year will be a great way to leave things.

Extended payment plans are also available.

» Purchase your 2014 VIP "All Access" Passes and Hall of Heroes tickets here... «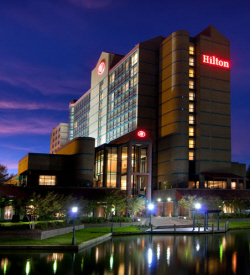 Book Your Hotel Rooms Now!

The Hilton University Place remains the host hotel for next summer's Mid-Atlantic Wrestling Legends Fanfest Weekend. The hotel is offering a discounted $96 group rate for those that book early.

Keep in mind, we will have a limited number of rooms at this discounted rate, so please make your room reservations as soon as you're certain of your travel plans. The discounted $96 group rate will be available until July 19, or until the group block is sold out, whichever comes first.

Remember, Charlotte is the heart of stock car country. The NASCAR Hall of Fame, Charlotte Motor Speedway and dozens of NASCAR race shops are nearby.

Charlotte's also home to Paramount's Carowinds, the Carolinas' premier theme park and family entertainment destination, including Boomerang Bay (a 20-acre splash-tacular, sun lover's paradise consisting of a 34,000 square foot wave pool, 1,000 foot long lazy river, 11 exhilarating water slides and three interactive family activity areas,) and WindSeeker, sending riders soaring 301 feet above the park at over 30 miles per hour and providing dramatic views of the greater Charlotte region.

Why not make your trip to Charlotte your 2014 summer vacation and take in a little bit of everything while you're here?

» Book your hotel rooms here... «



Get $20 When You Fly To Fanfest on Delta Airlines!



For those of you flying to/from Charlotte for fanfest on Delta, Air France, KLM Royal Dutch Airlines or Alitalia, we'll give you a $20 credit voucher that you may use for free fanfest merchandise while you're here!

It's very simple! When you book your flight reservations online, make sure to enter our SkyBonus program code: US331078683 and it's as easy as that! If you make your reservations by phone or travel agent, you must make sure they have the same SkyBonus program code in your reservation in order for you to receive the $20 fanfest credit voucher.

Should you have any questions, please email NWALegends@aol.com



Mike Mooneyham's "Mid-Atlantic Wrestling Memories!"
Also Available: Autographed Collector's Edition, Signed by 30!


Mike Mooneyham, a columnist with the Charleston, S.C. Post and Courier since 1979, sat down with 30 professional wrestling legends (all of whom will be at this year's fanfest,) and compiled this remarkable series of articles about their careers. Profiles include behind-the-scenes stories told by each of the superstars and more than 150 rare photographs to illustrate them.

Each of the legends tells how they got into pro wrestling and how they eventually found their way to the Charlotte territory, which, in the era of the territories, was considered by the wrestlers to be "the place to wrestle" and "the Mecca of pro wrestling" by the wrestling fans.

Just a few of the topics included -- the story behind the Magnum T.A.-Tully Blanchard feud; Dusty Rhodes' jealousy of the Rock 'n' Roll Express; why Jim Cornette and the Midnight Express gave their notice to booker George Scott; how Gene, Lars and Ole Anderson got together to form the Minnesota Wrecking Crew; fans cutting the top off the Assassin's Olds convertible and threatening to lynch them in a small, southern town; Johnny Powers going against the established promoters with his own promotion; and much, much more.

This book will both entertain and educate the reader on the lives of the stars, the inner workings of the pro wrestling business, and the history of the territory known as the Mid-Atlantic ... and told by those who experienced it.

The cover price is $22.95. Add $3 for USPS Priority Mail shipping within the continental United States.

Autographed Collector's Edition Also Available!
We have a limited number of "Collector's Edition" books that have been hand-signed by 29 of the wrestling legends pictured in the book, as well as by the author!

Autographed by Mike Mooneyham, Angelo Mosca, The Assassin, Baron Von Raschke, Barry Windham, Bob Caudle, Danny Miller, Denny Brown, Ivan Koloff, James J. Dillon, Jerry Brisco, Johnny Powers, Ken Patera, Kendall Windham, Lars Anderson, Leilani Kai, Les Thatcher, Magnum T.A., Manny Fernandez, Dennis Condrey, Bobby Eaton, Jim Cornette, Mr. Wrestling II, Randy Colley (Moondog Rex,) Rich Landrum, Ricky Morton, Robert Gibson, Tiger Conway Jr, Tommy Young and Tully Blanchard!






Sign Up For Our Weekly Email Updates




Pre-Order Now And Re-Live All The Excitement Of The 2013 Fanfest Weekend!


This site best viewed at 1024x768.

© 2004-2014 NWALegends.com & MidAtlanticLegends.com, All Rights Reserved.

NWALegends@aol.com

Neither this website nor fanfest weekend are affiliated or associated with
today's Mid-Atlantic Championship Wrestling or National Wrestling Alliance.